22nd Annual Working Wood in the 18th Century Conference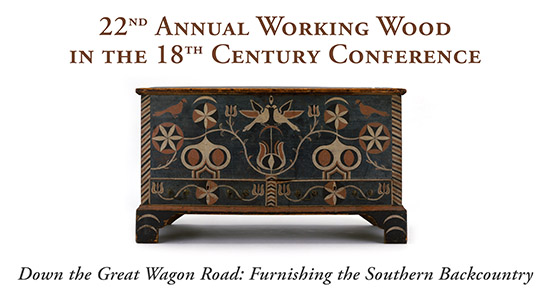 Join us at the 22nd Annual Working Wood in the 18th Century Conference in Williamsburg, VA!
January 16-19, 2020
Lie-Nielsen Toolworks Booth:
January 17-18
Open Hours: 2:00pm-5:00pm
Please Note: The full conference runs from the 16th to the 19th. Our booth will be set up on the 17th and 18th, Friday and Saturday, during the conference. There are open hours from 2:00pm-5:00pm on Friday & Saturday for the public to visit our booth without purchasing a ticket for the conference. This is an excellent opportunity to learn more about the conference, meet our event staff, and see our tools in person.
For more information, click here:
www.colonialwilliamsburg.com/learn/conferences/working-wood
Directions
310 South England Street
Williamsburg, Virginia
Click HERE to generate directions using Google Maps.
About the Event
Bold paint decoration, intricate inlay, wedged dovetails, punched tin, and sophisticated furniture, simultaneously familiar and unique, abound as we step into the early Southern backcountry for this year's conference. As varied as the people who settled there, surviving backcountry furniture reveals remarkable stories of cultural persistence and incorporation. Down the Great Wagon Road came people of diverse ethnic backgrounds from across the colonies and the Atlantic– notably from Scotland, Ireland, England, Germany and Switzerland. In time, they transformed the Shenandoah Valley, eastern Kentucky and Tennessee, and western North Carolina into a stable network of communities with distinctive markets for furniture that reflected their inherited traditions and the influence of their new home and neighbors.
Please join us as craftspeople and scholars from across The Colonial Williamsburg Foundation work alongside distinguished guest presenters – cabinetmaker Steve Latta, chair maker Elia Bizzarri, and scholar Daniel Ackermann – to explore this diverse legacy of fine craftsmanship.