No. 99 Side Rabbet Plane Blade
Replacement blade for our No. 99 Side Rabbet Plane. Comes with a 25° bevel, skewed at 30°. Made from cryogenically treated A2 Tool Steel.
Geometry:
The blade is bedded at 8° with a 25° bevel, for an included cutting angle of 33°.
Sharpening:
The blade comes ready to use, but honing a secondary bevel of 5° will increase performance, help achieve a razor edge quickly, and improve edge life in hardwoods. You can find sharpening instructions in a printable PDF format here:
Sharpening Instructions PDF
For more information on advanced sharpening we recommend David Charlesworth's video Plane Sharpening, available in both DVD and streaming formats.
The blade skew angle is 30°. We offer 30° Skew Jaws for our Honing Guide to make sharpening simple and consistent. The blade for the No. 98 fits with the Right 30° Skewed Jaws, and the blade for the No. 99 fits with the Left 30° Skewed Jaws.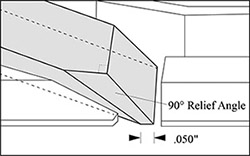 Note: As you sharpen the blade, you will have to restore the relief angle to allow the blade to plane to the bottom of a groove.
Materials:
Made from A2 Tool Steel, cryogenically treated, hardened to Rockwell 60-62 and double tempered. Our heat treating technique ensures that the blade will take and hold a very fine edge for a long time. After heat treating, the blade is fully surface ground on the top, back, and cutting edge, giving a smooth, flat surface that will take a mirror finish very quickly.
Maintenance:
Blades should be kept lightly oiled or waxed to prevent rust. We recommend Jojoba Oil, a plant based oil product that is non-toxic, odor-free and easy to use. Also, in our shop, we use a fine abrasive handblock to remove any light surface oxide from tool bodies and blades. Jojoba Oil and abrasive handblocks are available from us.