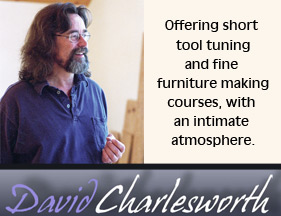 ---

Garrett Wade - The broadest range of quality hand tools, benches, power tool jigs and fixtures, machinery, traditional brass furniture hardware and finishing supplies for the woodworking shop.
---

---
The Woodwright's Website - Information about Roy Underhill, his books, and his television series.
---
WoodCentral - A place for avid woodworkers to share good information with each other.
---
Marc Adams - Committed To Excellence Through Hands-on Learning Experiences With The Best Instructors In The World.
---
---
Londonderry Brasses - Makers of high quality copies of 18th century American furniture hardware.
---
---
---
Scythe Supply - Scythe Supply specializes in the European style scythe. Simple, efficient and fun to use the European scythe is an elegant human powered mowing machine. Our web site is a comprehensive mix of unique tool offerings, information and instruction. We are scythe enthusiasts and would like others to discover the rewards of using this healthy mowing alternative.
---
Society of American Period Furniture Makers - Promoting knowledge and appreciation of the craft of period furniture.
---
Chris Becksvoort Furniture Maker - My pieces are intended to harmonize with your environment, as well as with our environment.
---
---
Clark Kellogg is an award winning fine furniture maker based in Houston, Texas. Woodworking is his passion and he aims to create bowls, chairs, boxes, and signs that are both functionally sound and aesthetically pleasing.
---
---
---
Makers of Handcrafted, Heirloom Quality, Custom Drums. We are a custom drum company located in Memphis, TN offering truly hand-made, custom drums with superior sound and quality, catering to the professional drummer. Ideal instruments for recording and live performance.
---
A full service teaching studio for those interested in woodworking. PFW's goal is to provide a broad range of hands-on classes for woodworkers of all levels, including beginners.
---
Based on the idea of "learning by doing", CVSW provide a wide range of hands-on woodworking classes for men and women of all skill levels.
---
With over 100 species of domestic and exotic hardwood lumber in stock, Hearne Hardwoods Inc. is one of the largest specialty lumberyards in the world.
---
The Woodworker's Guild of Rhode Island, Scituate Rhode Island based club of amateur woodworkers who share their knowledge & experiences of the craft with other woodworkers in the guild.
---
Rosewood Studio School of Fine Woodworking offers programs from one week to 9 months in length, taught by some of the leading professional furniture designers and makers from across North America.
---
Hardwoods Inc is family owned and operated, with over 30 years of woodworking experience. Their inventory of over 100-thousand board feet includes 150-plus exotic and domestic lumber species imported from all over the world.
---
---
---
Rare Woods in Mexico, Maine, stocks large volumes of rare and exotic timbers. They carry 180 species of stunning wood from around the world (from Ash to Zebrawood). For projects small or big - buy 1 plank or 1 thousand.
---
---
---
Slow Wood is both a Cultural and Entrepreneurial project.Slow Wood wants to collect the true Made in Italy values and, through the histories of craftsmen, woods, customers, offers wooden furnitures and accessories, crafted as numbered series or single pieces.
---
The Furniture Institute of Massachusetts
---
Lacabra - Fine Furniture made by hand in Spain, using only hand tools.
---
LaCasaRota - Fine Furniture hand made in Spain by Lorenzo García.
---
Lignorum - Spanish quality woodworking forum and event. Furniture making, woodturning, woodcarving, handtools, and more.
---
Local Wood WORKS - Find out about local sourcing of wood in Maine.
---
North Bennet Street School - A life of proven skills, artful solutions, and superior craftsmanship—built by hand. Full-time programs and Continuing Education classes in furniture making and fine woodworking. Master faculty and an inspiring community located in Boston's historic North End. Financial aid and veterans' benefits available.
---