No. 140 Iron Skew Block Plane - Right
Note: currently not available: Bronze body, Left Hand version.
A cross between a block plane and a rabbet plane, this plane has low bedding angle combined with a skewed blade. It cuts very well cross or end grain, cleaning up rabbets, dados, tenons and is a handy aid for dovetailing.
A retractable nicker scores cross-grain fibers, and the removable side plate and adjustable fence allow quick conversion to rabbeting and cross-grain work, such as fielding raised panels.
The 1-1/2" wide x 1/8" thick blade has an 18° skew and is bedded at 12° with a captive nut for positive and accurate adjusting.
Body is 6-7/8" long x 1-7/8" wide.
Iron, 2.1 lbs.
Click here to download a PDF copy of the instructions for this tool.
Skew Block Planes
Our Low Angle Skew Block Plane is adapted from the Stanley 140, which was discontinued many years ago. Its skewed blade and removable side made it more versatile than standard block planes. We have altered the design by lowering the blade angle, and adding a fence and a captive nut blade adjuster to increase ease of use and versatility.
Two holes are provided in the fence for attaching a wood strip if desired. When not rabbeting, keep the stainless steel side on the plane to protect the acute angle of the frog.
Geometry:
The blade sits in the body at 12°; it comes with a 25° flat ground bevel, making the included cutting angle 37°. The skew angle is 18°.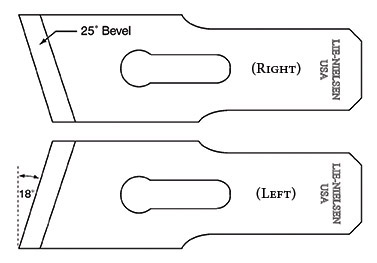 Sharpening:
The blade comes ready to use, but honing a secondary bevel of 5° or 10° will increase performance, help achieve a razor edge quickly, and improve edge life in hardwoods. You can find sharpening instructions in a printable PDF format here:
Sharpening Instructions PDF
For more information on advanced sharpening we recommend David Charlesworth's video Plane Sharpening, available in both DVD and streaming formats.
Blade Adjustment:
Hold the tool in one hand with your fingers supporting the sole, and your thumb on the cap iron just in front of the screw. Loosen the spinwheel, and with your thumb still holding the blade and cap, adjust the blade. Tighten the spinwheel. Do not overtighten. You should be able to adjust the blade after loosening the spinwheel about 1/4 turn. Because of the unsupported right side, there is some flex inherent in that thin metal edge when the cap is tensioned on the blade. This will produce a slightly tapered shaving which will normally not present a problem, but if on occasion it does, adjust the blade slightly out of parallel with the sole to produce a shaving of uniform (not tapered) thickness.
Nicker:
The circular A2 nicker is retracted when the flat is at the bottom. Rotate to expose the edge as needed. When fully exposed the nicker protrudes .010". Occasionally, you may need to hone the back (flat) side of the nicker on a fine waterstone to sharpen.
Materials:
We use Ductile Iron for the body; Manganese Bronze for the cap and fence; Stainless Steel for the plate, pins and adjuster nut; and Brass for the spinwheel and screws. The castings are fully stress relieved, a process that removes inherent stresses and ensures that the tool will remain flat and true.
The blade is A2 Tool Steel hardened to Rockwell 60-62, cryogenically treated and double tempered. Our heat treating technique ensures that the blade will take and hold a very fine edge for a long time. After heat treating, the blade is fully surface ground on the top, back, and cutting edge, giving a smooth, flat surface that will take a mirror finish very quickly. The 1/8" thickness provides solid chatter-free cutting.
Maintenance:
The body casting is ground flat and true (to .0015"). Occasional hand lapping with fine wet/dry sandpaper (320 grit or higher) on a flat surface will help remove dings and keep it true. The cap iron can be polished with any good brass polish, or allowed to patina with age and use. Occasionally, the tool should be disassembled, cleaned, and moving parts oiled. The blade should be kept lightly oiled to prevent rust, especially when the tool is not in use. We recommend Jojoba Oil, a plant based oil product that is non-toxic, odor-free and easy to use. Also, in our shop, we use a fine abrasive handblock to remove any light surface oxide from tool bodies and blades. Jojoba Oil and abrasive handblocks are available from us.
Find everything you need for tool care.
Guarantee:
Materials and workmanship are guaranteed for the life of your tool. Call for repairs or replacement parts. We are available for advice if you ever have a problem using your tool.
Proposition 65 Notice:
Bronze and brass alloys contain lead, a chemical known to the State of California to cause cancer and birth defects, or other reproductive harm. Wash hands after handling.